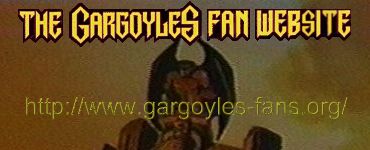 "A "Gargoyles" Review"
Based on the song "Video Review" by Randy Vogel (Animaniacs, Episode 47),
Lyrics by Constance "Eilonwy" Cochran
To be performed by at least three singers
(two will do; trying to sing this alone is not recommended,
as it makes the scansion trickier than it already is)
I.
(Singer 1:) The episodes' lure --
(Singer 2:) From "Avalon"'s shore
(Singer 2:) To "Thrill of the Hunt" -- "Silver Falcon" and more,
(All:) We've seen them all over and over before!
(Singer 1:)
Broken "Vows" resulted
In a rude "Awakening"
"Temptation" loomed
With "Deadly Force"
There was a "Reckoning
(Singer 3:)
Xanatos got married --
And they "Outfoxed" everyone,
But it was a "Long way to Morning"
'Til "The Gathering" was done.
(Singer 2:)
"Lighthouse in the Sea of Time" --
That takes too long to say-
"Golem"'s a little shorter
But the winner is "M.I.A."
(Singer 1:)
"The Mirror" did its magic --
"The Price" was settled soon
Now Demona, she can "Walkabout"
In sunlight at "High Noon"
(Singer 3:)
Further "Revelations" made
The pending "Future Tense"
There was no "Protection" from
The "Grief" that followed thence.
(Singer 2:)
Things were "Ill met by Moonlight"
When the "Leader of the Pack"
Tried "Possession" of Another's "Turf"
But had to give it back.
(All:)
"Eyes" of "Storm" and "Beholder"
complicated things --
"Pendragon" added to
the count of kings
II (Repeat tune of section I)
(Singer 1:)
"Enter Macbeth" emerging
From the "Shadows of the Past"
Once he had
A "Kingdom" but
Its "Legion" couldn'l last.
(Singer 3:)
The "Hound of Ulster" howled
On "The Green" and misty moors.
No "Sanctuary" could be found
From "Reawak'ning" lores.
(Singer 2:)
The Gargoyle clan, pushed to "The Edge",
Were "Sentinels" alone
Despite "Bushido" cause much fear
In "City" made "of Stone"
(Singer 1:)
Some thought they were "Monsters",
Some put them in "The Cage"
The "Vendettas" of the Canmores
stemmed from centuries of rage.
(Singer 3:)
"Her Brother's Keeper" tried to stop
A "Metamorphosis"
But the "Upgrade" happened anyway.
"What sorcery is this?"
(Singer 2:)
"The New Olympians" won't
Scan but use it anyway;
In "Mark of the Pather"
Giant spider held them all at bay.
(All:)
Gene "Heritage" resulted in
a "Double Jeopardy"
In "Cloud Fathers" X. had his chance
at "cliched villiany".
III.
(Singer 3:) There's Morgan and Brookly who's part of the trio
(Singer 1:) Lexington, Angely, Una and Leo
(Singer 2:) Then Arthur Pendragon, and Dracon and Glasses
(Singer 3:) Broadway, the Archmage, the Jogger that passes
(Singer 1:) Demona, Macbeth, Bluestonem Chavez and Mary
(Singer 2:) Hakon, and Hudson, and visits from faerie.
(Singer 3:) Anastasia and Owen, Titania, and Puck
(Singer 1:) Goliath, Elisa, and Vinny's bad luck.
(All:) Bronx, Guardian, Magus, Brendan and Margo...
And those are some folks from the show!
(All:)
We're glad that TGC is gone,
It seemed a feather-weight.
True it was a season three,
But hey, it started late.
So if you're down about the loss
And longing for a little more
Don't despair, and growl and snarl,
That's what a VCR is for.
And fan fic, filk songs, TGS,
The "Gathering" as well!
'Twas wondrous while it lasted -
Now we're in re-run hell.