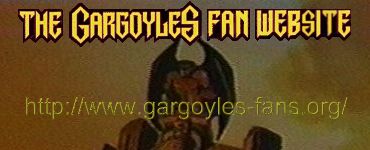 Elisa Triumphant
To the song "I Will Survive" by Gloria Gaynor,
Lyrics by Beedoo!
(as sung by Elisa)
Once I was afraid he was petrified,
But when nighttime comes I know he'll be there by my side.
You know, we spent so many nights around the world and Avalon,
I really think the whole clan had thought that we were gone!
We met a man from outer space,
Found a hundred gargoyle clans and the entire faery race,
Faced the members of the Pack,
I couldda killed those freakin' fae,
Not to mention, there's Demona, who tried to kill us every day,
But now Go! -liath and I
Here in Manhattan, here on this castle in the sky
Now that we are back and reunited with our clan,
Things are back to normal, and now we live again!
Oh he and I! Yeah, we survived!
The things that we went through, I don't know how we stayed alive!
I've got all my life to live, and I've got so much I can give
Just for my big purple guy.. Hey hey!
(music)
I never got the chance before to fall in love,
But somehow he flew down to me from Heav'n above.
I was in a headfirst plunge, and my chances sure were slim?
I guess that you could say that I really fell for him!
Through Demona's spells and David's schemes,
There's only one thing in this life that's what it seems.
All the magic that I know I felt that first time that we kissed,
He said, "Jalapena!" he said, "What sorcery is this?"
Oh, so my Go!-liath and I
I'm in his arms each time we glide across that New York sky.
We will always have each other to keep each other hanging on,
And we'll be strong? and that's how we'll get along!
With him now I? I will survive!
As long as he is in my live I know I'll stay alive!
We've got all our lives to live, we've got all our love to give,
Oh he and I, my gargoyle guy!
(repeat and fade)