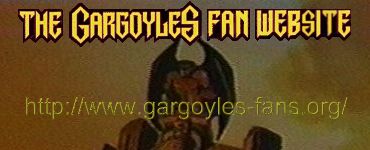 Travis' Top Ten List
Top Ten Reasons Why Goliath is the Main Character in Mosts Episodes:
He's always the one who doesn't put on deodorant (MacBeth: AAGH! I'm suddenely getting weaker!)
He secretly goes into Owen's dressing room (every day) and steals steroids
(There's a tie with the whole clan for this one), when Goliath roars at Xanatos, Xanatos always hands him a pack of mints!
Elisa has to borrow a mop to clean up Goliath's little presents (which makes him popular, you know, the bigger you are the more of a mess you'll make
He makes plans with Lexington how to fly a chopper into The Eirre (whatever) building without getting hurt [Lex: It's called a parachute Goliath, can you say that?]
He's the strongest
Back in 994 A.D. everyone wondered why he and Demona went into the rookery
Hudson is too old to lead
Goliath keeps getting tips from Broadway on Guns- Now Goliath, this is a 38 calabur, this is very dangerous


and the number one reason why Goliath is the main character in most episodes

He's the happiest because he's the only one who's been with a woman Garg!!!
Travis Whipple